This is a late posting to wish Ting a Happy Belated Birthday. We celebrated her birthday last Saturday and I almost didn't make it because of the night before plus the fever made me slept through the whole afternoon. Lucky Joey called me around 9pm and asked where I was or else I would have woken up the next morning and completely missed her birthday.
I made it just in time for the cake cutting ceremony. Well they say better late then never right.
I also manage to get my grubby hands on a Canon D50 and manage to play around and take a few shots. OMG I'm going to poison myself again. I love this picture. The capture speed of a DSLR is just amazing and I am able to capture awesome pictures at critical important moments. Hmmmm anyone wanna sell their DSLR cheap cheap and upgrade ?? hahahah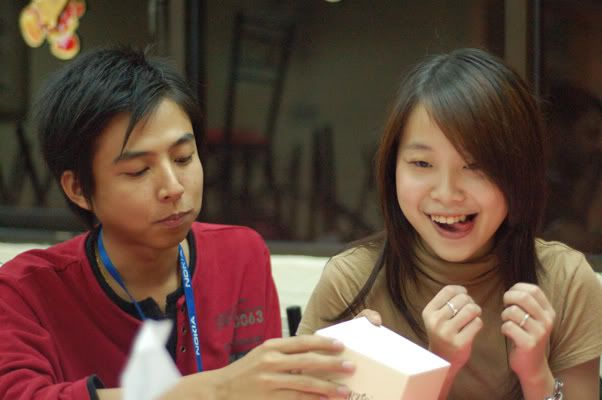 My head was still feeling a little heavy so I didn't manage to finish the cake but started picking on the tasty bits. :D
We left the restaurant a while and head over to KFC where Janice was hiding out having her dinner and we decided to crash her date. Hahahahaha. Without anywhere to go we head over to the Curve to try catch a movie and by the time we got there which was around 11:30pm the next available movie was 1pm and we gave it a miss and head over to Curve to have some drinks. We ended up in the cafe opposite Laundry. Had a few drinks, lotsa laughter and it was time to head back and continue nursing my throbbing headache.
Technorati Tags :